Hi everybody !
Last November 16th, Drawn had the pleasure to co-organize the first I Make A Dream (IMAD) conference !
Let's go back on the event !
Drawn : Zoom in on the I Make A Dream association !
For those who don't know this association, here are some explanations ! 😉
I Make A Dream is an association which gathers the 3D printing professionals in Rhône-Alpes region. It was founded by :
– Fabulous
– Drawn
IMAD's goal is to make the 3D printing accessible to everyone, by explaining it in a concrete way and with simple words. It also aims to highligh the sector main evolution, as for its challenges. Indeed, for the association, it is important to analyze and explain the 3D printing, to distinguish the myth from the reality. The I Make A Dream initiative's purpose is also to deliver a 3D printing vision, different from the one conveyed by the technical and media speeches.
To carry out these various missions, the association decided to organize several actions.
The first one constitutes a thematic conferences cycle.
The IMAD conferences goal is to present the 3D printing with its advantages and its constraints, on a given theme, in less than one hour. They are addressed to a large audience as journalists, companies and institutions, as for private individuals and schools, can attend to them.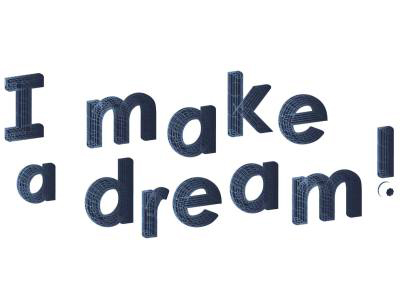 Drawn : Return to the First I Make A Dream Conference !
The first IMAD conference took place last November 16th, at the Rhône Chamber of Trades and Crafts.
Its theme was : « How does the 3D printing revolutionize our habitat ? » and dealt with the following sub-themes :
– The architecture models in 3D printing
– Free design from furniture
– Build homes in 3D printing, that's possible
– Co-design one's home with 3D modeling
– Fight against the planned obsolescence of our interior objects
A small size 3D printer was also exhibited and made various creations live.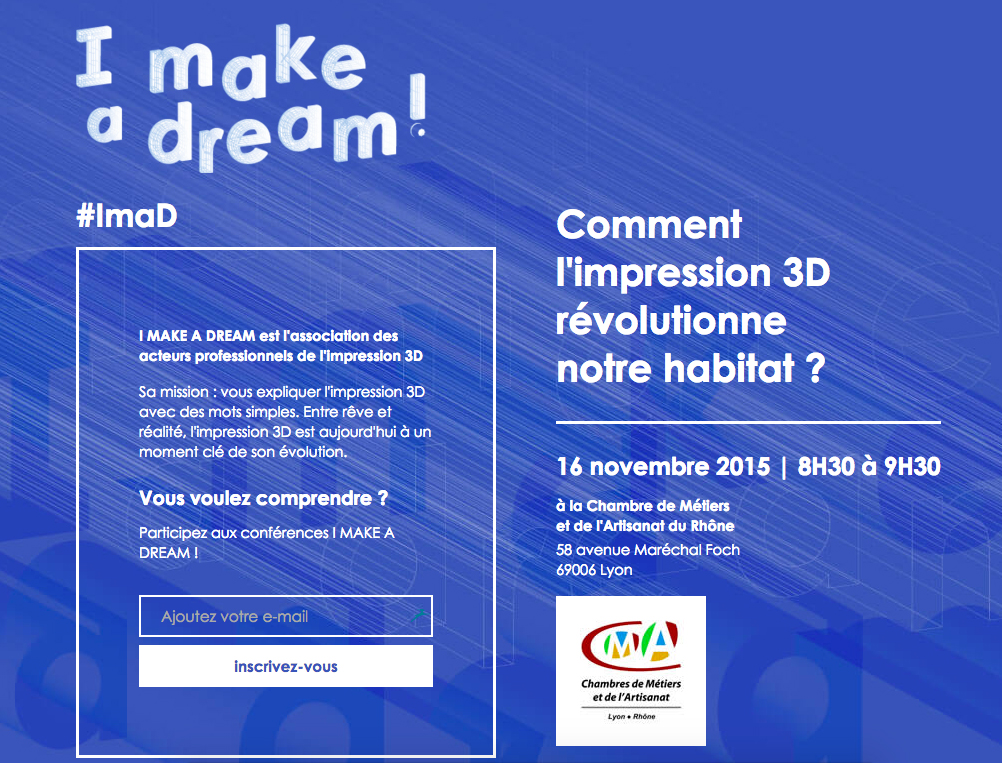 This first edition dedicated to 3D printing, represents a wonderful inauguration and promises a beautiful future to our conferences cycle ! Indeed, the room was packed last monday !
Drawn and all the association members warmly thank you for attending so largely the conference !
Thank you as well to the Rhône Chamber of Trades and Crafts for having received us !
Thanks to all of you, I Make A Dream had the opportunity to prove that innovation is also for and among artisans !
We hope that you will be a lot more next times because other thematic conferences are already in preparation !
So make time for the weeks and the months to come and stay tuned for more information ! 😉
And if you have loved our first conference, please sign in on our website to attend to the next ones !
See you soon on other I Make A Dream conferences ! ☺