It was a fantastic experience, but all great things come to an end: we're on our way home from MakerFaire Paris today. What a first edition of the event it was… We're utterly exhausted, but oh so happy!
Bringing Galatea to Paris and properly setting her up in time was a major challenge for the team (Sylvain Charpiot, producer, and Samuel Javelle, scripter) – no efforts were spared to make it happen.
Since the inception of Drawn, Sylvain has kept in mind the wise words spoken by Steve Jobs at his 2005 Standford University conference * and translated them into the following steps :
Safely setting up and connecting Galatea to its power and data inlets – Sylvain learnt a lot about clean and clever welding at an early age as he was setting up his first company, specialized in security alarm systems.
Sylvain used all his experience-based knowledge gathered since age 11 as a member of student associations – this played out in a mind-bogglingly successful, last-minute kind of way. See for yourselves:
Drawn was officially founded on June 13th  of this year
The Drawn brand was born the same day
Hauling eyebolts welded onto the robots' chassis the same day
Drawn @ MakerFaire Paris T-Shirts delivered to us on June 16th
Rust-proff coating applied to the the podiums on June 15th
Event-related flyers delivered to us on June 17th
Booth structural elements delivered on June 17th and installed on June 18th
Freshly-printed business cards delivered to us in Lyon on June 18th , only a day before our departure for Paris!
Sylvain organized the transportation of 2 podiums weighing in total 4,5 tonnes – his commissionning engineer experience gathered during a work experience at Air Liquide in scandianvia carrying and assembling elements weighting a few hundred of tonnes came  in handy!
Sylvain's good star, which has followed him around throughout his life thanks to meditation, also played a part in the process  : Galatea did not want to start on friday morning and then suddenly, for no explainable reason, jolted into action. And truck with door locking issues which somehow, the next day, just starts responding properly again…
And many other little but oh so meaningful things…
What an extraordinary adventure!
Special thanks to the MakerFaire Paris team for their logistical support and organizing skills, as well as their unfailing availability during the entire event. An extra special nod to Sylvain Clenet, the Event Manager, to Jean-Batpiste Le Clec'H, the Project Leader, and of course to Bertier Luyt and his nice team!
Galatea was surprinsingly docile and efficient during these 2 days! Even in our workshops a few days earlier, she didn't behave that well!
This allowed the whole Drawn team (Samuel, Galatea and Sylvain) to truly shine in this first edition of MakerFaire Paris, by winning no less than 7 Makers of Merit awards from VIP members of the event!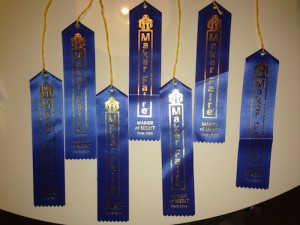 What an outstanding outcome, especially considering the people who gave us the awards! Here's their list:
Omar-Pierre Soubra, Director at Trimble
Mathieu from the lefabshop team
Margaux Duteil from the lefabshop team
Unidentified member, but the award had this message attached to it: "Wonderful Job!"
Sherry Huss, Vice-president at Maker Media inc – MakeZine
Jay Melican, Maker Czar at the New Devices Intel Group
John Bacus, product Management Director – Building construction, Architecture at Trimble (Sketchup)
This show was also the opportunity for Drawn to meet and present its activity to all visitors, including very influential visitors such  as :
Here are a few souvenir pictures :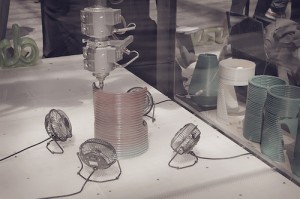 Photo credit : Raphaël Creton
* Sylvain warmly recommends watching this Steve Jobs video,  but also to practice Yoga and meditation ….