Hi everyone !
Today, Drawn is really proud to announce that we won the 2015 Artinov contest prize, in the "High Technology and Technology" category ! Back to the pictures !
Drawn : Zoom in on the Artinov contest !
For those who don't know this contest, here are some explanations. 😉
Artinov is a contest organized by our local Chambers of Trades and Crafts. These ones select the craft firms, which distinguish themselves by their capacity to innovate. The Artinov contest includes four categories : « Trades », « Product », « Production Process » and « High Technology and Technology ».
Its main goal is to promote innovation and technological development in these companies. The contest then highlights a business plan, which is part of an economic development strategy.
Thus, Artinov offers to craft firms a regional notoriety and then allow them to be recognized with their clients and their partners.
Drawn : Winner of the 2015 Artinov Contest
As you know, Drawn distinguishes itself by its innovative concept : the production of 3D printed and entirely recyclable furniture.
Thus, we had the honor to be selected by our local Chamber of Trades and Crafts.
Today, Drawn is now nominated winner in the "High Technology and Technology" category !
So, I want to warmly thank the Rhône Chamber of Trades and Crafts for this award, which represents years of work and passion.
Thank you also for these wonderful trophy and diploma :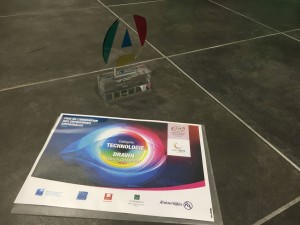 Thank you as well to "Le Progrès", which honor us once again in an article about our victory !
If you want to read it, please visit this webpage. Otherwise, find as usual an overview below :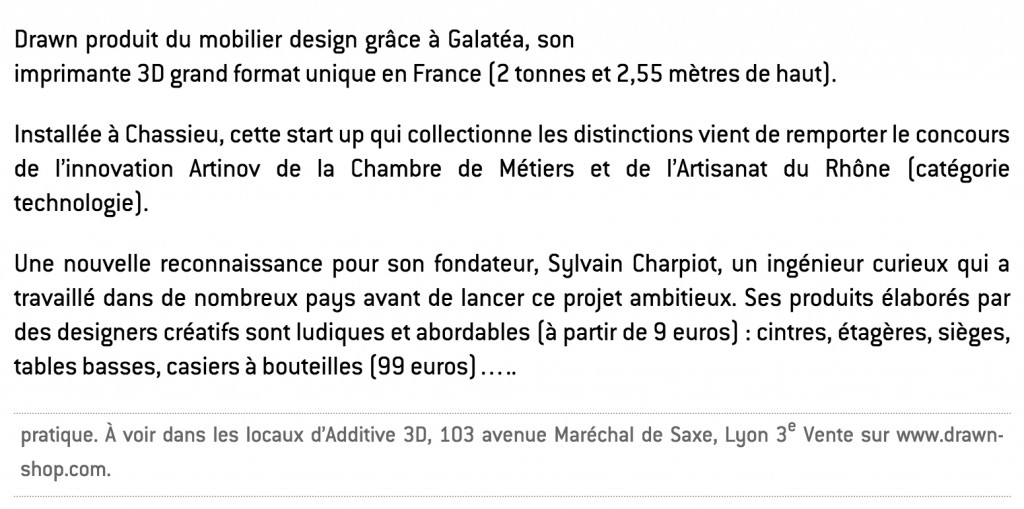 And for those who wouldn't know very well Drawn yet, here is our presentation video, made on the occasion of the contest :
If you love Drawn, you can of course purchase our products on our online shop !
And feel free to follow us on Facebook, Twitter, Instagram, Pinterest, Youtube… In short all our pages ! 😉
That's it ! Once again, heartfelt thanks to the Rhône Chamber of Trades and Crafts !
We are very proud of this distinction ! Let's hope that it's only the beginning and that the next ones will flow ! 😉
We will return to you soon for more news about Drawn ! ☺