Hello everybody !
Drawn has successfully collaborated with PLDM by PALLADIUM ! Today, it is Galatéa's turn to be center stage ! Yes, Madam became model for the last PLDM by PALLADIUM ad campaign ! Let's go back on her moment of glory !
Drawn : Galatéa presents PLDM Fall / Winter 2015 collection
Galatéa is not only a 3D printer ! No, in her free time, she is also a star !
The proof is, our friend succeeded in gatecrashing the last PLDM by PALLADIUM campaign, launched today ! Indeed, the shoes brand wanted Galatéa to appear in a one minute-and-a-half spot, which promotes its Fall / Winter 2015 collection. You can thus admire Galatéa behind the models Camilla, Monika et Emil.
This 3D printer is a true star ! This is again proof that everyone (and everything !) can become famous ! 😉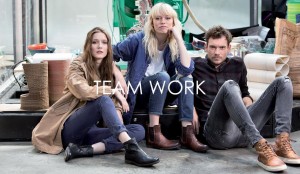 Drawn in partnership with PLDM by PALLADIUM
The brand new collection conveying both authenticity and modernity, Drawn and Galatéa have naturally collaborated with PLDM for its last campaign. Indeed, we want you to know that PLDM values are also Drawn's ! 😉
Moreover, the brand said that this new campaign highlights its inspirations.
We are thus honored and thrilled to learn that Drawn is one of them !
And if Drawn becomes trendy, then we are fulfilled ! 😉
We want to warmly thank PLDM by PALLADIUM for this beautiful partnership !
Thank you to them as well for their Facebook post ! A little help to make Drawn known and promote our Kickstarter campaign, is always nice ! 😉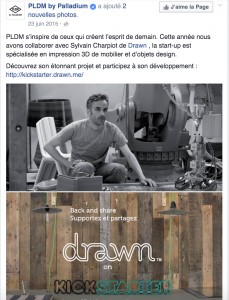 Galatéa enjoyed this filming a lot because she loves being under the spotlights ! 😉
Thus, we hope she will have further opportunities soon ! In any case, if you are looking for a model, know that she is ready to audition ! So if you are interested, you can already contact her agent Sylvain ! 😉
Well… I spoke about it a lot but you don't have seen it yet !
So, here is (finally !) PLDM by PALLADIUM new campaign !
And if you only have eyes for Galatéa, you can discover or re-discover her various appearances all along the campaign, through the images below ! 😉
That's it ! That was a great experience for Drawn and (especially ! ;)) Galatéa !
Thank you again to PLDM by PALLADIUM !
We will return soon for more news about Drawn and Galatéa !